About
All For Less Warehouse is owned and operated by Don and Coralee Karrer and Coralee's parents, Joe and Alice Hidber. This family fell into entrepreneurship almost by accident, although today they would say it was by destiny. The building that currently houses All for Less Warehouse was empty for quite a few years. Coralee's father, Joe, couldn't help but notice the real estate sign with the dropping price over the several months he drove by. Finally, he just couldn't resist what he saw as a golden opportunity. "We have to buy that building!" he told his daughter, who agreed that it would be a shame for it to continue to sit empty. So they purchased it, renovated, and opened All for Less Warehouse in 2007. Within a couple of years, they expanded their business when they purchased a 6,000 square feet warehouse, in Telkwa, to store their large inventory of kitchen cabinets, granite countertops, tile flooring and appliances.
It continues to be a family-run business today.
The family has lived in the Bulkley Valley and been a part of the Telkwa community for decades. Coralee, who grew up in the rural area of Telkwa is now raising her own family here and says Telkwa is a wonderful, safe community for families. "I'm sure my kids will be lifelong northerners!" says Coralee, whose kids are also deeply rooted in Telkwa.
Working for themselves, say the family, is a rewarding and satisfying feeling. "You work hard but you know that the extra work you do to serve your customers is worth it," Coralee notes. The family is also proud of the building that they bought and extensively renovated, which now sits as a beautiful addition to the business community. Joe, Alice, Coralee and Don are extremely grateful to the community that has helped make it possible for them to see their early dreams come to fruition and are avid supporters of local community groups and events.
All For Less Warehouse began in 2007 as an appliance store and gradually grew to include a diverse selection of products. Today, at All For Less Warehouse you will find General Electric appliances as well as in-stock solid wood Canadian Maple cabinets, custom granite countertops, sinks, faucets, porcelain tile flooring, decorative backsplashes, mattresses, shoes, Fireworks, bedding and more.
In addition to its extensive selection of products for the home, All For Less Warehouse also carries toys, fishing gear, and casual clothing for the whole family as well as prom and wedding dresses. All for Less Warehouse is a family-owned and operated business that strives to source the best products at affordable prices that won't break your pocketbook. All For Less Warehouse is conveniently and centrally located in downtown Telkwa along Highway 16.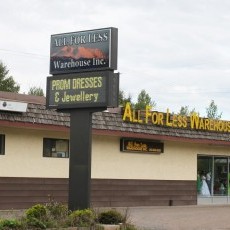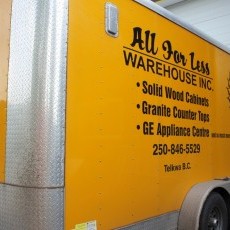 Check out our Specials!
---
Here's what is new at All For Less Warehouse!
---
---
Feel free to send us a request for a quote for your project.
---